Rituals for the Ancestors
__
Festival of the Bones
Festival of the Bones is a multicultural community ritual honoring revered ancestors. It was originated by Chief Yeye Luisah Teish and members of Ile Orunmila Oshun in 1995 and produced annually until 2011, then again in 2014. Two of my contributions to this wonderful tradition are shown below: a digital Poster promoting the 2014 festival, and the 5 Directions Ancestor Altar created for the 2010 festival.
__

Poster
Festival of the Bones 2014
Digital Photo Collage
RGB JPG, © 2014
__
The 5 Directions Ancestor Altar
The altar was structured as an equal-armed cross of four directions extending out from the fifth direction—the center. Each arm extends about four feet. Each direction relates to an element: Earth, Air, Fire, Water, Spirit and was decorated with appropriate colors, cloth, flowers, food offerings and candles. Digital Photographs-© 2010, 2014, 2017
__


Five Directions Ancestor Altar, © 2010
__
Above is a view of the whole altar before ritual participants arrived. The directions are (counter-clockwise): North/Earth on the left, West/Water to the right, Center/Spirit, and South/Fire on the far right. The table corner below the white lily is East/Air.
__
The altar developed as pictures of revered ancestors and personal, sacred objects were placed by members of Ile Orunmila Oshun. Later audience members arrived and added their ancestor pictures and offerings. In the West/Water section, Shala Rodriguez placed a bowl of salt water filled with shells on a circular net-like pattern made from efun (white chalk) and cowrie shells to honor Olokun, Orisha of the deep.
__

Center looking from the East. Wooden sculpture of Oya presiding over the directions.
__

Detail: East is Left, North is Right
__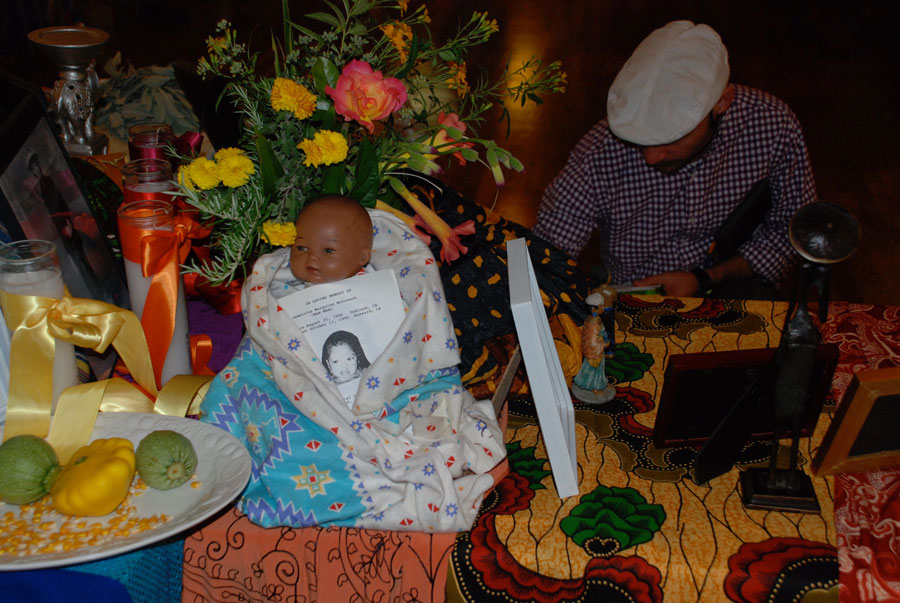 Detail: South, Sean Rockey adding his ancestor pictures.
__

Closeup of South on Left, East on Right with persimmons and eggplants for Oya.