world of Rivers — Gratitude Ancestors
Feed what feeds life is an ongoing series of commemorative ceramic plates that honor ancestors and the waters of their geographic origins. This practice relies on Ifa-Orisa spirituality, ancestor research, and low-fire ceramic surface decoration methods.
__
My intention is to make beautiful and useful ceramic art works, and nourish relationships to each another, our individual and collective stories, Earth and her Waters—past, present and future.
__
world of Rivers — Gratitude Africa (Plate number 17-3 in-progress)
Stoneware decorated with underglaze colors and pastels, clear overglaze, 11.75 inches diameter, © 2021
__
Everyone has ancestors, everything needs water.
In late 2016 I began experimenting with media and methods for decorating low-fire ceramic plates intending to create a series for beauty and use in ancestor ritual.
__
I wanted to pay homage to Africa as home of our first human ancestors, and to the ancestors and rivers of Yorubaland and West Africa, birthplace of Ifa-Orisa traditional religion. The plates are gifts of gratitude for allowing me 25 years of participation in the tradition; some are pictured here.
__
As I continued experimenting with materials and ways to use maps, symbols, color and text as design elements, the surface decoration imageries of rivers, geographies, words of praise took on qualities of visual narrative. I have begun to think of the plates as a visual form of "oriki," a Yoruba word meaning "to cite one's origins." Oriki are praise poetry and invocation: performed to informs an audience about the qualities and acts of a person's life story, ancestral lineage, character and contributions to the community.
__
This year my focus is on developing multiples from the Gratitude Africa series, and creating a series honoring my blood ancestors and their rivers of origin in Europe and the United States. I am also designing workshops for community participation (post-Covid) and looking for ways to present public exhibitions and ritual.
__
__
world of Rivers — Gratitude Africa
Stoneware decorated with pastels and pastel wash, clear overglaze, 6 inches diameter, © 2016, 2021
__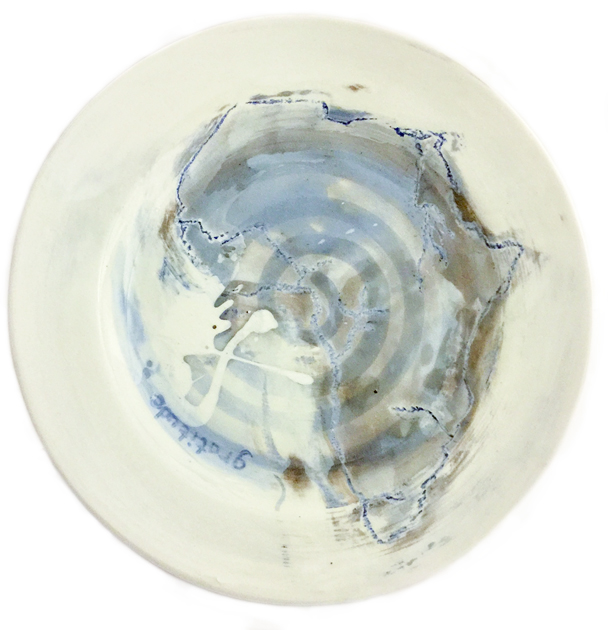 __
world of Rivers — Gratitude Africa (Plate number 2017-8)
Stoneware decorated with underglaze colors, pastels, clear overglaze, 11.75 inches diameter, © 2017, 2021
__

world of Rivers — Gratitude Africa, Igba Iwa Bird Plate (Plate number 2017-7 in-progress)
Stoneware decorated with underglaze colors and pastels, clear overglaze, 11.75 inches diameter, © 2017, 2021
__
Project Updates
• March 29, 2021
Currently I am researching my own blood ancestors for a series of one-of-a-kind homage plates, and developing multiples of the Gratitude Africa plate series—this work will be at least through the Summer 2021.
AND
When Covid-19 conditions allow, I can offer workshops in my San Francisco studio: Research your ancestors, learn ceramic decorating techniques, design and decorate plates; and use them in our community ancestor altar and feast. Then the plates go home with you. 1-3 students at a time. Payment by donation—the basic cost of producing one large plate (11.75″ diameter) is about $25. Additional contributions gladly accepted, and No one turned away for lack of funds. Contact me for more info, check back here for updates.
__
• October 25, 2020
Corona cases are rising again. Now thinking workshop part of this project to launch in 2021 (I hope late spring or summer). Meanwhile I am continuing to design and create ritual art and commemorative ancestor plates, and seeking funding. I will be posting images of plates for sale as I make them. Please stay well & VOTE.
__
• September 27, 2020
Numbers of Corona cases continued to rise in summer and the shut down mostly continued. I realized that the logistics of delivering the project online—and dependent on US mail to ship back and forth in the platemaking process, would make it too expensive for folks to participate. In San Francisco some venues are re-opening, however I am not ready to open for students at this time…if conditions are right, project start-up could be late spring, early summer 2021.
Some GOOD NEWS
I received a small Covid-Relief grant from the Independent Arts & Media Bay Area Arts Workers Relief Fund which I will use for seed money!!!! Please stay well.
__
• May 2, 2020 Project Update
If Shelter in-Place-and Social Distancing restrictions are still in force by August; if there is sufficient interest in the project, world of Rivers—Gratitude 2020 can be delivered as a remote, all-online project. If you are interested in participating, return here for updates and contact me by July 1. Stay well.