Iya l'Orisa
Ritual Art, Research, Education, and Writing Projects
_____
world of Rivers — Gratitude, 2020
Praise and thanks for our Ancestors and Rivers
You are invited to participate in my Community Ritual Art project. Because of the Covid-19 Pandemic I've significantly revised 2020 plans.
Use this LINK to visit the world of Rivers — Gratitude page for more information and the latest UPDATES.
And please stay well.
_____

Gratitude Africa
Plate in-progress, stoneware,
underglaze colors, pastels, 11.75″ diameter, © 2020
__
__
Conjure! and the Cemetery Sweeping Ritual
Conjure! is a Diversity Studies class at California College of the Arts taught by Shylah Pacheco Hamilton. The Cemetery Sweeping ritual was done annually by members and friends of Ile Orunmila Oshun for many years. It is a community service ritual for ancestors who reside in untended areas of Piedmont cemetery, Oakland. In the past few years Professor Hamilton, CCA Students and myself have performed the ritual.
Click on this LINK or Photograph for the Conjure! page

__
Clay Vessels for Orisha and Ancestors
I make unique custom made clay vessels by commission; shown are two Oshun pots on a bembe altar © 2020.
LINK to Clay Vessels for Orisha & Ancestors Gallery page
__

__
Etu Cloth
Indigo dyed silk and cotton weavings, custom made by commission. This is an weaving in-progress still on the loom, © 2020.
LINK to Etu Cloth page
__

__
Festival of the Bones II, What is Remembered Lives
Festival of the Bones II is a collection of personal writings, stories and portraits about ancestors and ancestor reverence practices by members and friends of Ile Orunmila Oshun, published by Orikire Press, 2010; I was a Contributor and Co-Editor on the project. The book is paperback, currently distributed by Lulu Press, $18, Purchase your copy with this LINK for Lulu.com
__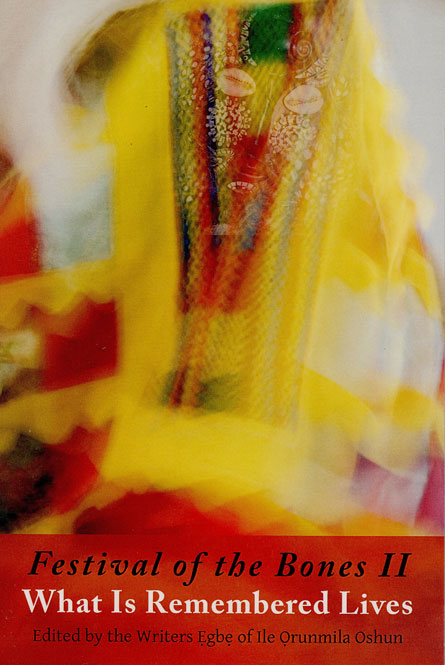 __
Orin ire, Songs for Orisha & Ancestors
Orin is Yoruba for songs ire good fortune. Orin ire is an ongoing research, education and ritual art project. It includes study of Yoruba, Lukumi and Brazilian versions of Ifa-Orisha songs and lyrics, and sometimes developing English translations. I am also recording songs for teaching. I occasionally write original songs. The project is mainly archival and for a time existed as a website for teaching, learning and sharing, but the web platform has disallowed audio uploads so I have suspended that part for now. My vision is to recreate the website on a different platform and offer online learning. One page of the old site is still live so you can – use this LINK to OrinIre.wordpress.com to see how it worked.
__
Being white in Orisha, guidelines for respect & relationship on the path of Iwa Pele
In Orisha tradition our prayer is that each person's best spiritual development and destiny for this life be realized. As humans we must fully engage and collaborate with all relations in bringing goodness to the world. Being white in Orisha, is a teaching and learning project for encouraging understanding and the practice of good character (iwa pele). The format is workshops, the work involves learning and examination of the structures and protocols of Ifa Orisha community, white privilege, white supremacy, and how white people's racist behaviors—conscious or not, can negatively impact our selves and our relationships with Orisha elders and community. Contact me by email for more info.
__
gailwilliamsArt.com | © Gail Williams 2020 | Thank you for visiting.